Dahlia Seaton is a neutral Pokémon Trainer.
Background
Her mother owns a flower shop and her father is a sailor who works in the port. She is the middle sibling among Aspen; who is the youngest, and Dahlia; who is the oldest. She grew up among flowers, and as such, she adores them. She plans to continue running her mother's flower shop in the future. Whenever Aspen and Olivia would fight, Dahlia would try to to be a mediator, though with mostly middling success. When Olivia left the family, she attempted to reach out to Aspen, though she had little to no success as well. After Aspen joined Team Liberty, Dahlia felt worried about what could happen if he ran into Olivia again, though she felt happy for him finally being happy again. She doesn't want to take any side in the war, unlike her two siblings, because she thinks however the war plays out, she shouldn't be a part of it.
Appearance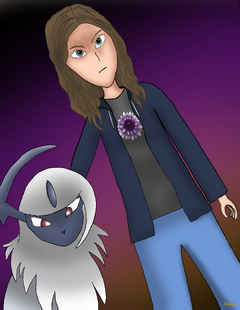 Dahlia has brown hair and sky blue eyes. She wears a white longsleeved shirt and blue jeans. She also wears a pair of brown boat shoes.
After returning from being rescued, Dahlia has switched out her outfit. She now wears a forest green vest over a pink t-shirt. She wears a similar pair of jeans, about the same size and color as her previous one. She has also added a straw sun hat to her outfit, decorated with (fittingly) a pink Dahlia. She has also kept her brown boat shoes. Overall, Dahlia's outfit is very similar to her previous one, still very simple, though her new are a bit more colorful. Her eyes don't exactly have their previous happiness, but they contain the same kindness they always had. Dahlia stands at 5'10. She carries a light tan backpack with various flower patterns.
Personality
Dahlia is an extremely sweet person, always kind and looking out for others. She especially caring towards her brother Aspen. At times, she may act a bit ditzy. Though she seems like a relatively simple person, she sometimes display an intellect one would not attach to someone her age. Though she is reluctant to engage in Pokémon battles most of the time, she will if the situation calls for it.
Pokémon
Laurel


The flowers on the top of her head are a brighter color than most members of her species.
Nickname:
Laurel
Gender:
Female
Specialty:
Despite her frail appearance, she has excellent Defense. She also uses Sunny Day in battle so she can use Synthesis in battle to restore her health, and to increase her Speed, due to her Ability.
Species:
Bellossom
Ability:
Chlorophyll
Personality:
Laurel is a happy and jolly being. She loves to make people around her happy, as well as dancing. Dahlia is her best friend in the world, and Laurel trusts her completely. Like her trainer, she tries not to be involved in battles, but when the situation calls for it, she will do so.
Moves:
Leaf Blade

Stun Spore

Sunny Day

Experience:
6
Trivia/Misc./Other:

Magical Leaf

Leaf Storm

Synthesis

Obtained at:

Coco


The fluff on top of her ears are puffier than other Buneary.
Nickname:
Coco
Gender:
Female
Specialty:
She is a very agile Pokemon, and is rather adept at Physical Moves as well.
Species:
Buneary
Ability:
Klutz
Personality:
Coco is a happy-go-lucky Pokemon who only wants to have fun. She loves to play with people or other Pokemon. Battles for her a simply another game to play. If something serious happens though, she knows to hold back her bubbly personality.
Moves:
Quick Attack

Jump Kick

Agility

Experience:
12
Trivia/Misc./Other:

Bounce

Ice Punch
(Egg Move)
Thunder Punch
(Egg Move)
Obtained at:

Gerri


The purple "pupils" of the eyeball pattern on her antennae are darker than normal.
Nickname:
Gerri
Gender:
Female
Specialty:
Although she no longer has the Swift Swim ability she had as a Surskit, Gerri's wings seem to have boosted her speed even further. Her ability to fly in any direction makes her movements unpredictable.
Species:
Masquerain
Ability:
Intimidate
Personality:
Gerri's wings seem to have given her a boost of confidence. While she maintains the shy, timid nature she had as a Surskit, she is more willing to make new friends. That said, she is still uncharacteristically ferocious in battle, a trait that seems amplified by her newfound speed.
Moves:
Air Cutter

Bug Buzz

Quiver Dance

Experience:
9
Trivia/Misc./Other:

Hydro Pump
(Egg Move)
Mud Shot
(Egg Move)
Signal Beam
(Egg Move)
Obtained at:

Dracos


No different from other Dragonair.
Nickname:
Dracos
Gender:
Male
Specialty:
Quicker than most members of it's species.
Species:
Dragonair
Ability:
Shed Skin
Personality:

Moves:
ExtremeSpeed

Dragon Rush

Thunderbolt
(TM move)
Experience:
8
Trivia/Misc./Other:
Given to Dahlia by Alistair Hakuda
Outrage

Safeguard

Dragon Dance

Obtained at:
Near Rustboro City
Nutmeg


A bit smaller than the average Turtwig
Nickname:
Nutmeg
Gender:
Female
Specialty:
Speed+
Species:
Turtwig
Ability:
Shell Armor
Personality:
Nutmeg is a quirky individual, who doesn't think a lot of things through properly. However, she is also quite friendly and enjoys the company of others. Oftentimes she will attempt to greet someone with a headbutt or by jumping at them, though her weight usually ends up being a hindrance in those instances.
Moves:
Razor Leaf

Tackle

Mega Drain

Experience:
6
Trivia/Misc./Other:
Given to Dahlia by the Gym Leader Erika
Withdraw

Wide Guard

Superpower
(egg move)
Obtained at:
Celadon City
Asriel



Nickname:
Asriel
Gender:
Male
Specialty:
Asriel can sense when a devastating blow is about to be dealt to him or an ally. He can also detect hostile intent in those around him, and sense a sneak attack the moment before it occurs.
Species:
Absol
Ability:
Justified
Personality:
Asriel is quiet and aloof among most people, thanks to years of being looked at as a monster. While he's mostly unwilling to interact with human beings and even some Pokemon, those who show him kindness will earn his friendship and protection.
Moves:
Night Slash

Psycho Cut

Megahorn
(egg move)
Experience:
6
Trivia/Misc./Other:
Asriel first appeared to Dahlia in Sootopolis during the Groudon Incident.
Detect

Future Sight

Razor Wind

Obtained at:
Lilycove City
Marsala



Nickname:
Marsala
Gender:
Male
Specialty:
As a way to reduce the risk of the motion sickness that would come from in a melee battle, Marsala has perfected the art of manipulating the light-emitting spots on his body to daze, confuse, or hypnotize opponents from afar. This defense mechanism often prevents enemies from ever reaching him, for if he gets knocked around too much in battle his motion sickness will cause him to be dazed and confused.
Species:
Inkay
Ability:
Contrary
Personality:
Marsala grew up in a colony of Inkay off the coast of Cyllage City. While his fellow Inkay would constantly flip themselves upside down for fun, Marsala suffered from motion sickness and thus preferred to remain right-side up. In an attempt to fit in with his peers, he developed the odd habit of flipping small objects upside down to mimic the effect of himself being upside down.
Moves:
Hypnosis

Swagger

Topsy-Turvy

Experience:
0
Trivia/Misc./Other:
Marsala refuses to go upside-down due to motion sickness.
Constrict

Foul Play

Psybeam

Obtained at:
Kalos Route 5
Community content is available under
CC-BY-SA
unless otherwise noted.